My new CNC machine is cutting tricopter frames like mad and is working like a charm.


However when I built it I did the bare minimum just to get it going. Now the time has come to make the finishing touches.

I've been running the machine with the stepper-motor controller unprotected. That is until now. Now it's going to get a home.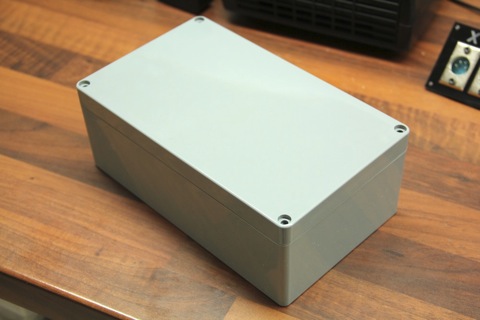 This plastic electronics box should suffice.

I used the CNC to cut holes for the fan and air inlet in the lid. Is it weird for a CNC to cut parts for itself?

I made the front and back panels from 1.5mm black G10 (fibre glass).

I think it turned out pretty well.

The connectors I chose for the motors are originally made for microphones, but should work just fine in this application as well.

Backside of the motor connectors.

Fitting everything (including the panels) into the box.

Done. I've covered the air intake with a mesh to keep most of the dust out.

I engraved X, Y and Z in the fibre glass panel to keep track of which contact is for which motor.

I've covered the air inlet with a mesh to keep most of the dust out.

Before now, the stepper-motor wires were in danger of getting caught during operation. To eliminate this problem I used black a black PVC tube normally used to run electrical wires inside walls in houses.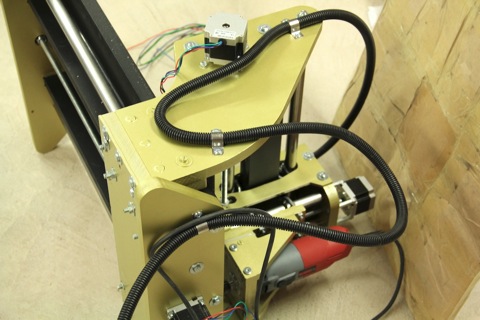 The tube is nice and stiff and will keep the wires out of harms way.

A small black box on the side to hide the wires.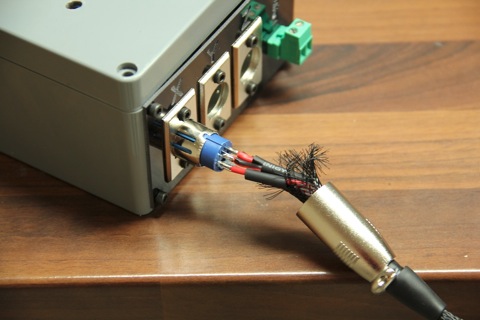 Soldering the connectors.

The wiring done! Tidy.

Machine almost done.

Wiring protected and tucked away.

Ready for the next cutting mission.

The controller box all hooked up.

Time to cut some more stuff. Now without having to worry about the wires catching while cutting or something getting into the motor controller and damaging it.